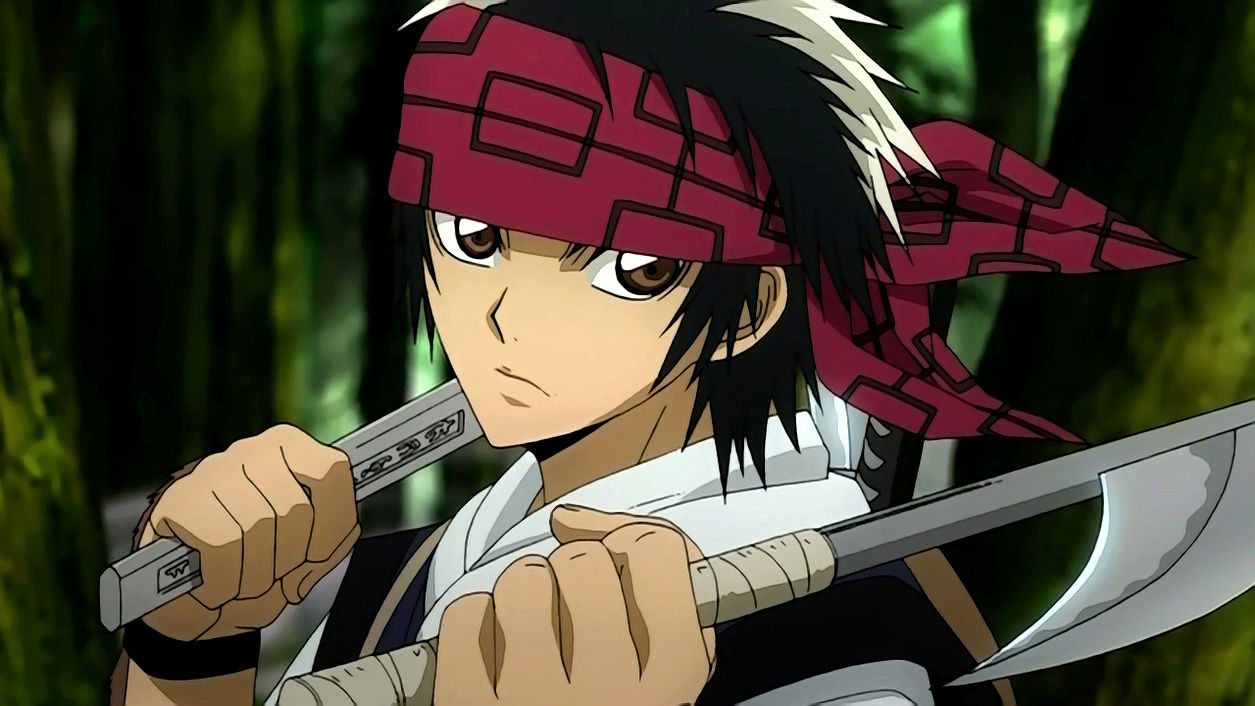 Name:
Susumu Kiiro
Nickname:
Desert Wind
Age:
9
Gender:
Male
Height:
Four Foot, 3 inches
Weight:
85 Lbs
Appearance:
His appearance, despite his probable age, is that of a young male in his teen years. He is a rather average sized man with a rather petite build and tanned skin, brown eyes that shift to golden slitted and rather animistic eyes and sharp facial features. He has messy, short black hair, which is rather spiky and has white on the top, and the forelocks of his hair are concealed because of the bandanna on his head which is purple and has many kanji symbols on it. His most distinctive features are his sideburns, which are rather long and nearly go down to the bottom of his chin. His usual attire is rather traditional, which consists of a standard grey martial arts like uniform, consisting of a Jibei Top and Hakama Pants. Over this he wears a dark blue sleeveless Haori which is tied to a fitting with a black obi sash. On his arms, he wears arm-guards which protect his forearms in battle, as well as a purplish bandanna on his left arm, similar to the one tied around his head.
Land:
Land of Wind
Character Rank:
D
Clan:
Susumu
Element:
N/A
Personality:
With low value in himself and inexplicably high standards set for himself, Kiiro is hunter and prey, darkness and light, a crow with broken wings that beats himself up for not being able to match a falcon in the skies. Living in imperfect balance between good and evil, choking in a sea of gray shades, Kiiro somehow finds enough strength to not only keep on walking but to laugh, to joke, to play and to train...though in many ways he does all of it in ways that are unconventional to the world around him. Whether through madness of deception Kiiro speaks in riddles, cryptic and inappropriately referring from anything ranging to blood, death, gore, mortality, ethics/morals to more light hearten subjects such as camaraderie, friendship, loyalty, duty, honor and courage.
Quite often he blends both, leading to much enjoyment at the expense of confusion of those around him. Lunacy or otherwise, his personality tends to lend him to be sort of a spymaster, utterly obsessed on the accoutrements of knowledge regardless of quality or worth, he also roams the village while making his home in a variety of cramped safe-houses that are renovated out of abandoned structures to suit his own purposes, often stashing various intelligence he has personally acquired which he keeps in a strange arrangement to make outsides who might uncover such to be hopelessly confused by the haphazard order they are kept in. While Kiiro can appear to be strange, creepy, unhinged, manipulative and a loner, Kiiro in fact deep down desires a close relationship with someone since the passing of his foster father. He dedicates the entirety of his craft, the labors of his training and his absolute loyalty to the village and anyone who is an ally. The darker side is that all whom are enemies, all who turn their backs on the village, wish it harm, flee due to fear, they all will not perish but continue to suffer under his many sinister blades.
"Pain, suffering, despair...it all enables happiness in this life, it gives meaning to the fleeting instances of joy that we experience. Happiness without pain is hallow, void, utter emptiness. Pain without joy? The fate of our enemies...Kekeke."
Highly intelligent, very hardened to pain and trauma, Susumu Kiiro is a near-pitiless agent who's sole ethics are malleable to meet the demands of his village and by definition, family. His quirks often alienate him from society but with some nurturing, he could make a fierce and terrifying agent of shadows that other villages might fear...or he will be reduced to a gibbering mad idiot dog of incomprehensible logic to be put down.
Character History:
Kiiro was born into the Susumu family, belonging to the spider clan of old, his birth was difficult and his mother did not make it. Which is often the case in such family members, the bleeding and tearing as each set of shoulders passes through can cause hemorrhaging. Kiiro was a very interesting child, he was well loved, by his grandparents, and his father. His father did remarry and have another two children, however Kiiro was already older and more mature then them. When he reached the age of 7, he was sent to study under his grandfather, the current head of his families sect. However strong his grandfather was, he was old, forgetful and often times confused. Kiiro thrived in this atmosphere, his daily training was hard, but after that he was virtually free of over-site. His grandmother would occasionally scold him, but she was too busy with grandfather to pay him much mind. As long as he stayed out of trouble Kiiro had virtually unlimited freedom.
He used this to his advantage, studying what he wanted, learning secrets about the clan far younger than normally allowed. He spied on his grandfather writing important missives and seeing his rare collection of items and weapons. Kiiro however was foolhardy as well, thinking himself capable and powerful, he sought out even more dangerous avenues of power, passed down from legends, new techniques and procedures to enhance his power. Using his elderly grandfather, he had him sign a missive for Kiiro to undergo a dangerous and dubious procedure to enhance his fighting power. Thinking he could handle it, he however could not, the agony and suffering this procedure had on him, left a lasting impact. It took him over a year to recover, a year he lost out on for his ninja exams.
Finally recovering, Kiiro entered and passed his academy exams, keeping hidden his new shame and secret, studying in the dark to try and master it. Still missing a key part that is to be played, he gingerly learns all his can, seeking out even darker secrets in an effort become strong enough.