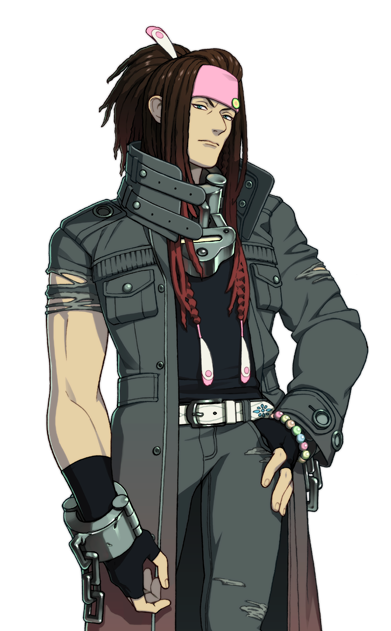 Name:
Noet Hagoromo
Nickname:
No-No
Age:
24
Gender:
Male
Height:
6'9"
Weight:
223 lbs
Appearance:
In the prime of his youth, Nōet's athletic muscular stature sets him at six feet and nine inches in height and weighing in at two hundred and twenty three pounds, a brute of a man to foreigners who at times can see him resting well above his peers. The melanin in his skin holds shades of amber during the summer seasons and honey bronze during the winter, although what remained fixed are the cyan pupils of Nōet's eyes framed within almond shaped sockets. His hair has a curl pattern to it with a thick texture similar in appearance to orange-brown wool, often stylized in the fashion of one hundred and twenty-eight individual thirty two inched dreadlocks wherein sixteen split evenly framing both sides off his face and the rest found held back tied around one another creating a ponytail with the remaining dreadlocks obscuring his neck as they fall below his neckline at the back of his head.  When worn in this fashion the undercut shaved sides of his head are slightly exposed above the ear revealing their small shape, more often than not a feather from an avian friend of the day resting atop the center of his head nestled within the locks for security and attesting to his oneness with nature.
Atop a sleeveless black V-neck Nōet wears an olive-green neck high military style trenchcoat which also happens to be sleeveless, this top is accompanied by charcoal grey pants and matching size eleven and a half steel toed boots resting just below the knee: thirty-two eyelets per boot, sixty-four total. Although covered by black fingertipless gloves each digit extending to the wrist as well as both shoulders are covered in white bandages. When wearing it, his forehead protector rests across his forehead by a black cloth, otherwise a pinkish-red cloth stands in its place.
Land:
Amegakure no Sato
Character Rank:
S - Amekage
Clan:
Hagoromo
Element:
N/A
Personality:
Who he was and who he is now is not a case of being a product of the other, but instead being the underside of the same coin. Having been isolated from humanity for the better part of his youth, Nōet grew up developing a feral mindset reminiscent of the primates around him whose tightknit society he had been woven into as "the hairless chimp". As his caretakers would communicate so to would he with audible grunts and ranging vocalizations accompanied by the use of smells and visual messages, although since being enculturated back into society he has minimalized much of what he has been taught to simply the use of sign language when among the more civilized and wanting to do without the use of vocal human language.  The enculturation process was much of a struggle for Nōet, a lack of interest in most human activities made learning even the basic social skills a challenge that plagued him for many years until he found what was considered his "voice" at the time in the use of symbolism.  
Symbolism became a major factor in Nōet's development that would eventually lead him into communicating through the use of human speech, yet still after its acquisition he had mixed feelings about its use. Primarily the fact that the language he came to learn was chalked full of hidden double meanings wherein a person's true nature could be hidden among the brightest of smiles, thus making it his least preferred form of communication and standing as a testament to his distrust of most humans. It is in Nōet's belief that through experience in time the true nature of a person's heart will become revealed, and as such the less of him vocally they will need to receive for the two to understand one another.
Minimalistic describes Nōet at best when it comes to material possessions, everything that he owns or interacts with has a specific purpose and typically he not need more than such. The same mindset he applies to the tightknit group of humans that he keeps amongst his inner circle, each person has a role to play nothing more nor less. It is when disregard for the role played comes into fruition that he becomes beside himself and more often than not reverts back into a more primal mindset that revolves around his fight or flight response, with being of the dominant nature he is not known for flight outside of being strategically applied to ensure said dominance prospers further.
Character History:
After tragic circumstances led to the horrific deaths of the both of his parents, Nōet's status became that of an orphan of Amegakure no Sato during a period where an imperialistic agenda fueled a pipeline from the orphanage into its military ranks. Fortunately, the armed forces was not a fate that had been written in the stars for the boy who then was merely a toddler, but instead he was sold off to smugglers in to the slave trade. Like so many others before him, Nōet had slipped through the cracks of the impoverished state and was charted off far from his homeland not accounted for and with no one to look for him.
Caged, beaten, raped, and starved to the point just short of the brink of death; this was the life of many of those sold into their slave trade, but for Nōet? He wouldn't last the night. Much like the night of his parent's departure of life, so to did death surround the toddler and fall upon both his captors and fellow captees. At such a young age Nōet's brain simply could not fathom the gruesomeness of the scene at hand, although what it could recognize was the feeling of being alone and cold when things were all said and done. As would any toddler in his position Nōet cried long into the night until finally exhaustion had set in. Although when he awoke no longer was he among rotting corpses, nor covered in the blood of his captors, but instead wiped clean and to his surprise within a colony of gorillas. For the better part of six years the boy would learn the way of the primates by living amongst them, learning their languages and skills, and forgetting the few years of a normal human life that he had experienced.
Nōet's natural instincts and oneness with all things natural served to help him survive amongst the wild nature of his new family, but nonetheless the "hairless chimp" as he would come to be known as prospered as a valuable member to their community.  The isolation from the human world kept most of his curiosity  about is true nature at bay, but the characteristics that differentiated himself from the others reared its ugly head at a time when Nōet was at his most vulnerable. Already shrouded in his insecurities, the boy came under fire when members of their colony ventured outside of the permitted zones and were attacked by what they only knew of as other "hairless chimps". Scrutinized for simply being "one of them", the boy's alliance was put to the test and for the better part of a month he was cast out from the colony to patrol its borders and keep a watchful eye on their attackers.
Expected to be met with force, Nōet kept at bay and out of sight among the tree line refusing to engage his targets unless they acted first, but in his month's long stay not once did they act in which they were depicted. Instead, it would be him to make firs contact with the humans. Various scientific instruments and personal belongings left around at their abandoned campgrounds fostered a growing curiosity that originally stemmed from his observations of his human counterparts. It wouldn't be long before Nōet found himself stuck in a rut as a result of his meddling. For weeks he studied their odd symbols and even begun replicating the strokes of their brushes, albeit with a stick in the dirt as opposed to the giant scrolls that they used. Nonetheless, when it was time for him to apply brush to paper the ignorance of his nontraditional upbringing saw to it that he was dabbling in forces that he clearly knew nothing of, thus as a result the symbols that he created conjured forth restraints that bound his body immobilizing it and storing it within the very scroll he used.
Unbeknownst to Nōet, his consciousness had been frozen in time while his body was paraded around the world before it became clear that his fate had been sealed. The unsealing process brought him face to face with his captors; a man and woman of high political stature who would go on to be been stated in village records as his adoptive parents. In fact, the two played the role of a Daimyo of Amegakure and his Assistant, with their powerful connections a decision was made to seal off the more harsher details of the boy's past life in favor for a more pleasant future with them. The truth of blood relation had been made evident early on in Nōet's development which only made him appreciate even more the "family" that he had as he began a stressful road into being enculturated back into society. As the Daimyo's son Nōet wasn't traditionally schooled and instead was paraded all across the lands and made to be in attendance of his father's speeches, more often than not growing up as a restless teen he simply couldn't stay put long enough to endure the rigors of the adult world, thus never to far from his sight was his father's assistant whom Nōet referred to as "Caretaker". A woman few in words whose nurturing side was second only to her motherly instinct, Caretaker is more or less the reason that Nōet lives to tell the tale of today.
An interest in the Way of the Shinobi was one developed in reaction to his father's recurring weekly absence toward the end of a civil war within Amegakure's borders. Afternoon visits became dinner conversations and then eventually those came once a week, and as an ambitious child Nōet didn't know how to fit a week's worth of inventions and discovery's into an hour long meal talk. Graying hair, loss of appetite, and a sensitivity to noise, the boy could visually see the tole the effects of the war were having on his father and pledged to find a way to end his suffering and the suffering of others. Nōet's time up into his Chunin years were spent as a soldier of war, the peace he brought to his home village equated to the death of others attempting to do the same, an endless cycle of death as seen through his eyes. The appointment to the rank of Jounin followed shortly after war times had ended, like the few others that had survived to return home they were greeted with celebration and praise, but the feeling pitted in their stomachs made them think otherwise. After the death of a student of his during the Chunin Exams Nōet retired from active military duties and settled comfortably within the political sector of the village, he figured a change had to be made at its roots rather than its branches.
With his father as Daimyo and himself becoming a prominent figurehead in the eyes of the villagers the two ushered in a wave of reform that worked in tandem with the brief era of peace that the world experienced. In a manner of three years Amegakure no Sato became a leading competitor with the five main villages in exporting industrial materials, the turned profit helped develop better communities that saw the life of a shinobi being less commonly pursued for skilled trade work. Before his father's resignation from the position as Daimyo, Nōet used his father's political influence along with his notoriety to become elected as the village's new kage. Although only a year has passed since his coronation, Nōet has brought major reform among the military system in place by doing away with as a public display of force, instead grounding it in its roots of secrecy and espionage. With peace among the world on the verge of an unbalance Nōet holds even more dear to him his connection to nature.